Roger Brodin's Nurse Statue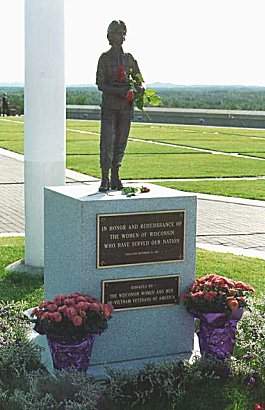 The nurse statue was proposed by artist and Vietnam veteran Roger Brodin. One thousand small (less than one foot tall) replicas were sold to raise money to make a big one to put in Washington, DC at the Wall. The statuette in my collection is No. 999.

There were three three-foot tall statues made. One was displayed at the UC Berkeley Vietnam Veterans Art Fair. Vietnam Nurse and local PTSD expert Rose Sendeki posed for the statue. The large version was never made; the Women's Memorial was erected in DC instead. The three-foot version shown on the right is at the High Ground Memorial.