For press, media, and public relations information e-mail Tara Taylor.

For licensing and permissions requests, and for all other business stuff, please contact Bill Belmont.

Download high-resolution publicity photos.
What songs would you like me to sing if I come to your town? Send me your suggestions.


H O M E

NOVEMBER


I'll play a benefit concert for Pike Kaksonen, the late Lazy Lester's spouse, to help pay bills & defray medical expenses. It's at the River Theater in Guerneville on Thursday, November 29, and features Taj Mahal, Rick Estrin, and many others.
---
I played my "farewell performance" at The Chapel in San Francisco with the Electric Music Band on December 22.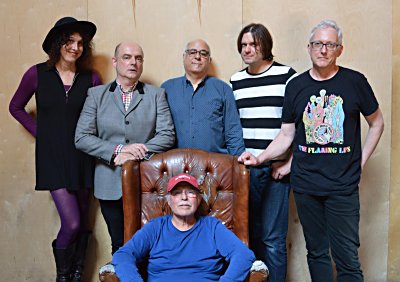 From left: Andrea Hensler, Alec Palao, Matt Piucci, Derek See, Jozef Becker; seated: Country Joe.
See previous gigs.


At the LBJ Presidential Library for the Vietnam War Summit. Photo by David Kennerly