OCTOBER


I was on Larry Kelp's KPFA show "Sing Out" doing a special program on music by Vietnam soldiers and Veterans on October 5. The show will be archived for later listening for two weeks -- go here and click "Listen."



On Sunday, October 8, the Berkeley Historical Society will open its new exhibit, "Soundtrack to the 60s: The Berkeley Music Scene." I'll play, along with members of the Joy of Cooking and Oona Garthwaite. Music from 2 to 5, followed by refreshments and exhibit viewing. It's free, and 60s attire is encouraged. Limited seating -- reserve your seat(s) through Eventbrite.

DECEMBER



I shall return to Sweetwater in Mill Valley with the Electric Music Band* doing the Electric Music For The Mind And Body 50th Anniversary show on Sunday, December 17.



Country Joe and the Electric Music Band* will play Freight and Salvage in Berkeley on Thursday, December 21.



On Friday, December 22 the Chapel in San Francisco will host the last performance of the 50th anniversary tribute to Electric Music for the Mind and Body with Country Joe and the Electric Music Band.*
See previous gigs.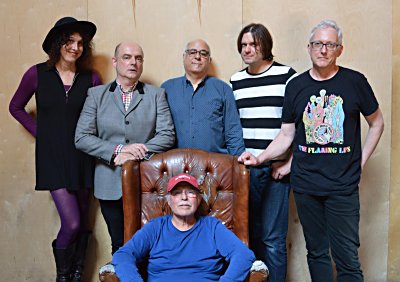 From left: Andrea Hensler, Alec Palao, Matt Piuccci, Derek See, Jozef Becker; seated: Country Joe.

Country Joe and the
Electric Music Band
celebrating the 50th anniversary of
Electric Music for the Mind and Body
performed in its entirety
Country Joe McDonald: vocals
Alec Palao: bass
Matt Piucci and Derek See: guitars
Andrea Hensler: keyboards
Jozef Becker: drums



At the LBJ Presidential Library for the Vietnam War Summit. Photo by David Kennerly